Brother Ricky Ly from the University of Central Florida Phi Chapter recently published his first Book!!! If you're a super Foodie and want to visit some of the best restaurants in Orlando, FL, be sure to find Ricky's book on Amazon.com HERE!
From the Back Cover
The local food culture is growing in Orlando. Because of its strong tourism industry, the city is often stereotyped as a place known for its many chain restaurants, but Orlando is a world-class destination that offers a diverse culinary landscape. Here it's about the neighborhoods. From pockets of Vietnamese enclaves and a growing "Little Brazil" near International Drive to a huge food truck scene and an increasing number of farmers' markets that feature local, farm fresh, all natural foods, Orlando is becoming more and more of a food lover's delight. In Food Lovers' Guide to Orlando, seasoned food writer Ricky Ly shares the inside scoop on the best places to find, enjoy, and celebrate these culinary treasures. A bounty of mouthwatering delights awaits you in this engagingly written guide.
With delectable recipes from the renowned kitchens of the city's iconic eateries, diners, and elegant dining rooms, Food Lovers' Guide to Orlandois the ultimate resource for food lovers to use and savor.
Inside You'll Find:
Favorite restaurants and landmark eateries
Specialty food stores and markets
Farmers' markets and farm stands
Food festivals and culinary events
Recipes from top Orlando chefs
The city's best cafes, taverns, and food trucks
Local food lore and kitchen wisdom
About the Author
Ricky Ly is the food writer for Tasty Chomps!(http://tastychomps.com), a food and restaurant website dedicated to finding culinary adventures throughout Orlando as well as journeys and foodie discoveries overseas.
Born and raised in West Palm Beach, Florida, his passion for food and adventures began very early on, instilled by his Vietnamese and Chinese immigrant parents. His first memories were of pork belly and hard boiled egg dishes in the late afternoons and steaming dim sum plates of sweet and slurpy shrimp rice paste and dumplings on Saturday mornings. In 2003, he moved away to attend the University of Central Florida in Orlando, Florida where, among other things, he graduated with a bachelor's degree in civil engineering and wrote for the university's student newspaper, the Central Florida Future.
He currently resides in Orlando, Florida working by day as a civil engineer and writing by night as he continues his lifelong quest to find great eats in all sorts of nooks and crannies of the world.
TastyChomps.com recently received awards from the Orlando Sentinel and is featured on Zagat's Fork and Tell.
You can follow him online on twitter at @tastychomps and on Facebook at Facebook.com/tastychomps
Congratulations to the newly established George Mason University Colony! This is Pi Delta Psi's first chapter in the state of Virginia!
Aaron 'HAMMERDOWN' Porras, a brother from UCB Colony (University of Colorado at Boulder) being featured in an article in Asian Avenue Magazine as a Rising Star!
The article features Aaron who finds his community within the brotherhood, speaks about his cultural identity, and the lack of APIA organizations on the high-school level.
Asian Avenue magazine is a publication founded to build bridges of awareness, knowledge and understanding between the diverse Asian Pacific American (APA) communities and the general public through cultural insights, pop culture, news and information. We are the only printed publication in Colorado focused on the APA community and culture. 
Check out the full article here!
*Note: Aaron served as President of UCB Colony last year. Raymond 'Ness' Auyeung is the current President.
Congratulations to the following brothers for their selection in to the Order of Omega.
The Order of Omega is a leadership honor society for members of Greek organizations. Order of Omega recognizes juniors and seniors who have exemplified high standards in the areas of scholarship, leadership, involvement within their respective organization and within the Greek, campus, and local community. Members are selected from the top 3% of students at each institution.
Jonathan Browning – Rensselaer Polytechnic Institute
Eric Chan – University of Central Florida
Scion Li – Rochester Institute of Technology
Tony Mai – Rochester Institute of Technology
Tho Nguyen – University of Florida
Dennis Ou – Carnegie Mellon University
Kenneth Tran – University of Florida
Toan Tran – University of Central Florida
Christopher Winardi – University of Florida
Jake Yap – University of Florida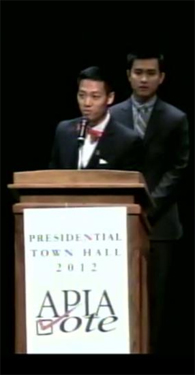 There has been only one sustained project involving direct collaboration between national Asian American fraternities and sororities. That project, born out of a partnership between advocacy group APIA (Asian Pacific Islander American) Vote and the National APIA PanhellenicAssociation (NAPA), is Project Five Percent.The project aims to highlight APIA issues in national politics by registering APIA youth to vote. The hope is that higher Asian American voter turnout would sway candidates to cater to the issues of our community.
Pi Delta Psi has consistently been at the forefront of this project, and youth civic engagement efforts in general. In 2008, Pi Delta Psi brothers held three of the eight positions in Project Five Percent's National Planning Board, including that of Board Director. In July of 2012, four youth leaders representing the Asian American collegiate community spoke at the APIA Presidential Town hall in front of thousands of community leaders and members of Congress; of the four, two are Pi Delta Psi brothers. Brothers William Xu from the Rochester Institute of Technology represented NAPA, and Vigor Lam from Ohio State University represented the Midwest Asian American Student Union.
Such accomplishments are evidence of Pi Delta Psi's unparalleled commitment to cultural excellence. Our organization recognizes that Asian American awareness must go beyond campus organizing, to community organizing. It also means educating brothers on issues like how Asian Americans are least likely of all minorities to vote, and to actively address such issues through the passion and commitment of the membership. It is through such efforts that our brothers develop organizational and leadership skills. It is with these initiatives that we create our identity as a brotherhood.