On July 16th, our National Executive Board held our annual Summer Conference Meeting in New York, NY. We would like to thank all of the executive officers in attendance on behalf of their respective chapters.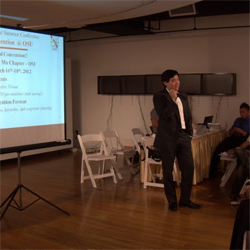 Information presented at the meeting is available through your Chapter officers and via special request through the Executive Board.
As reflected in this successful meeting, we are proud of our organization and rely on the dedication of our members to continue our pursuit of "Excellence through Brotherhood."
Additionally, we would like to congratulate Phi Chapter for being recognized as the Chapter of the Year for the 2nd year in a row. Also, congratulations to Thierry Phouthavong for being recognized as the Brother of the Year.