Hi Everyone!
As part of their chapter recognition project, Northeastern University, our NEWEST Alpha Alpha Chapter created a documentary highlighting our fraternity. It has been completed and will be released shortly. Please stay tuned! AY.
- Pi Delta Psi Fraternity National Board
Congratulations to Columbia University – Associate Chapter for receiving the Academic Achievement Award for 2013, best exemplifying Pi Delta Psi Fraternity's 1st pillar.
On May 27th, 2013, the Brothers of The Mu Chapter competed in the Dragon Boat Race for their second consecutive year.  Yixi Kevin Lu, Brother SPIT #38 of Spring 2006, spearheaded a team of 23 Brothers.  Hosted annually by the Asian Festival of Columbus, Ohio, this race consists of 20 paddlers, a steersman, a drumming pacesetter, and a 250 meter burst of teamwork, cohesion, and synchrony.  After days of practice, these Brothers competed against a roster of 17 teams.  In pursuit of cultural awareness, community involvement, and Brother Unity from neophytes to Winter 2001 alumni, The Mu Chapter placed 2nd in the open division.  AY.
This past Tuesday, June 11, 2013, National Executive Board Recorder, Vigor Lam, was invited to attend the White House for Obama's speech on Immigration Reform, a a very hot topic going on in Congress currently.
Vigor sat amongst many community leaders to listen to our POTUS speak on Immigration Reform; how common sense it is to pass this bill, to make sure proper steps are taken to create a pathways for the 11 million DREAMers to EARN their citizenship. As Obama said, this bill is NOT perfect, but it's a compromise. Its support trumps party lines. This is EVERYONE'S issue. These DREAMers, like the girl who introduced the President, are our friends, neighbors, etc. They want a fair and just way to become American, as they feel in their heart they already are.
To see a full video of the speech, please click here.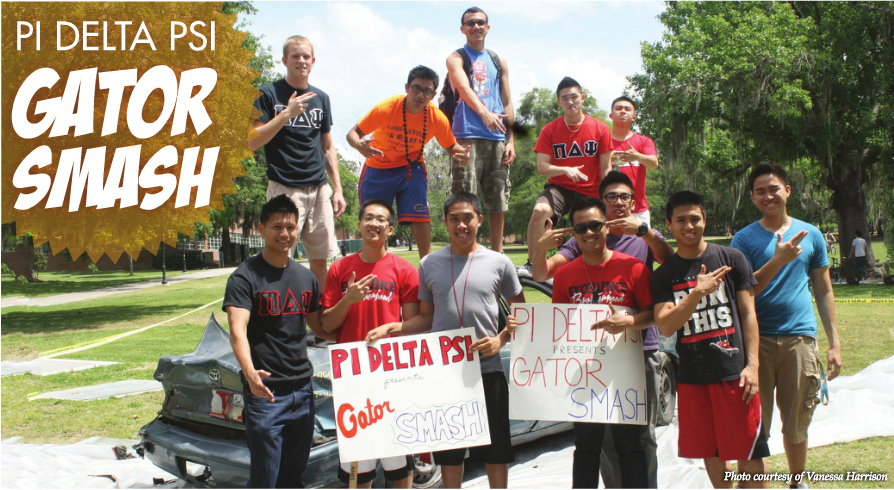 Brothers from the Sigma Chapter at the University of Florida successfully hosted a "Gator Smash" event to raise money for the Big Brothers and Sisters of Mid-Florida mentoring program. Read more about their awesome event here: http://theodysseyonline.com/content/issues/Florida/04.25.13/#p=6
See Dr. Huy Huynh, brother of Sigma Chapter, smash this car!